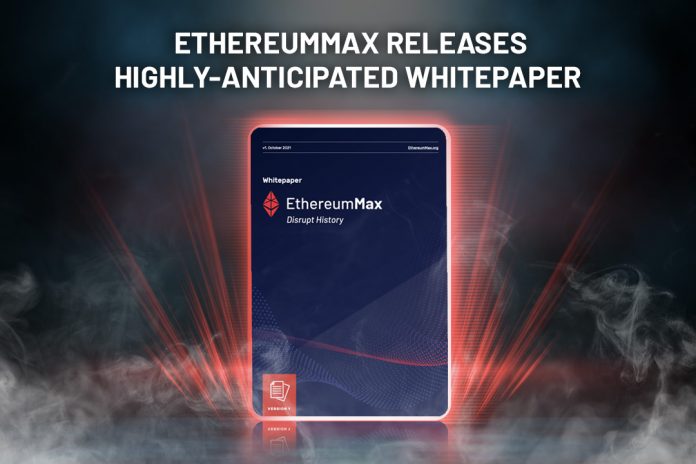 EthereumMax, a new cryptocurrency project that launched in May 2021 and quickly experienced impressive growth that ultimately caught the attention of major news outlets and received multiple celebrity endorsements from the likes of Kim Kardashian, Floyd Mayweather, Dennis Rodman, and more, recently released the project's highly-anticipated whitepaper. A whitepaper is a document released by a crypto project that gives prospective investors technical information about its concept and a roadmap for how it plans to grow and succeed. The project was criticized early on for not having a whitepaper upon launching as it was one of the fastest-growing cryptocurrency projects this year, attracting over 100,000 holders in less than one month as the tokens value (EMAX) increased an astonishing 1,370% in just a two-week span. In a world where there seem to be multiple crypto projects launching every day, most of which can be considered questionable at best, that type of growth is not the norm and is sure to get people talking. Fast-forward a few months, and the EthereumMax whitepaper has now been released and has already been downloaded over 4,000 times.
In a previous interview, when Giovanni, a member of the EthereumMax leadership team, was asked why the project had no whitepaper, he responded with, "We always had a lot of big ideas and a vision for the project. We really wanted to shake up the space and disrupt history. We had a game plan before launching that included our approach to tech and marketing among other things, we just didn't have our thoughts completely documented into a format that would be considered public-facing. Even our team didn't think we would take off this fast, at times it was dizzying to keep up with the speed and growth, but we knew the whitepaper was critical. If anything, our quick growth further delayed the release of our whitepaper, because, with so many EMAX holders that trust us, we knew we could not disappoint, and we think our whitepaper delivered much much more than anyone was expecting. We're extremely happy with the outcome."
The EthereumMax whitepaper, a robust 50-page document that certainly does not lack detail, touches upon everything from near-term tokenomics of the EMAX token to how they plan to build out the 'ecosystem' of the project which is inclusive of the release of a new token called XMAX, their governance token, along with a stablecoin called MAXPAY, which will be used for peer-to-peer payment transactions. Essentially, the project has audacious plans to create its own financial ecosystem and models to replace 'the current financial system which is antiquated'. That all sounds great, but is there any real use for the tokens? Yes. EthereumMax has also proved to have real-life utility which by itself, sets the project apart from a majority of altcoins in the space. The most recent example was an NFT ticketing package they offered for the primetime heavyweight championship fight between Tyson Fury and Deontay Wilder which was inclusive of tickets, signed memorabilia, a VIP after-party with Tyson Fury himself, and a limited edition digital NFT.
The whitepaper also referenced additional opportunities for its holders to participate in the ecosystem including an NFT marketplace, ticketing, staking, minting, and what EthereumMax is calling "EMAX Experiences", which are focused on exclusive events, meet and greets, and VIP perks. Dubbed as the "Culture Token", if anything, EthereumMax has proven to have one of the most engaged communities in crypto as all of their social platforms boasts tens of thousands of active members.
The whitepaper highlighted an interesting aspect which they call the "3×3 SBS Matrix", which is an acronym for Stake Bond Sell. In short, the model illustrates the cause and effect based on the decision of two participants (to either Stake, Bond, or Sell) their XMAX tokens in the ecosystem. The paper highlights how positive and cooperative decisions yield the most lucrative outcome for all involved, such as both participants deciding to stake their XMAX or one deciding to stake and the other deciding to bond. Holders can stake their XMAX tokens, which means locking up a portion of their tokens for a period of time as a way to accrue additional value on their holdings. Staking was noted as one of "the most beneficial actions for all participants." EthereumMax also states it is in the process of converting into a DAO-governed model or a Decentralized Autonomous Organization, which would further give its holders and community decision-making or voting rights.
In short, the EthereumMax whitepaper did not disappoint. Compared to the plethora of alt-coins in the marketplace, EthereumMax delivered something that can certainly be considered top-tier in terms of whitepapers. It's filled with cutting-edge technology, financial models, a long-term vision, and most importantly, an explanation of how everything works together. Throughout the whitepaper they provide definitions and simplify terms, making it digestible to both veterans and newbies to crypto. They seem to be focused on simplifying the complex, which is appreciated, no matter your level of involvement with crypto. After reading their whitepaper, one can understand why something of this magnitude could not be rushed. The EthereumMax team has set some lofty goals and certainly has a long road ahead of them. But if they can pull off what is outlined in their whitepaper, EthereumMax is going to be a force to be reckoned with. Check out their whitepaper and keep your eyes on this project.
You can find a link to the EthereumMax whitepaper directly on their website or by visiting this link: https://ethereummax.org/wp-content/uploads/EthereumMax-Whitepaper-v1-Final.pdf
Shortened link: bit.ly/2WzyXmu