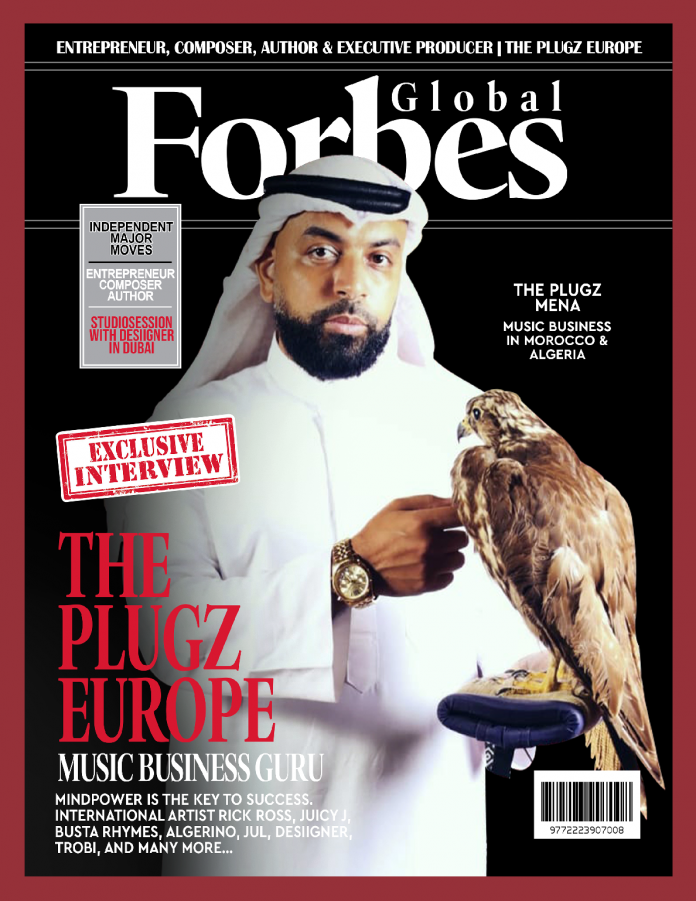 An Exclusive Interview With The Plugz Europe For The Forbes Global Magazine.
The rule-breaking music experimentalist talks about the differences between major and independent labels, and how he ended up starting his own company in music business.
In 2020, when the pandemic led those who could afford it to retreat into sloth, Pablo did an extremely Pablo thing: He made moves. Several. The 37-year-old used lessons from his expansive career—which includes a artist career. First he upgraded one of his side-hustles, his International Marketing Company, from a dutch marketing company "plugin music for artists" organized around collaborations with major & indie labels, and DJs in his country of the Netherlands. By the end of the year he went international with his concept and he had tripled his revenue. Then he launched a new business model with his brother Yacine Arroumia, aimed at developing international projects and careers.
All the while, he kept one boot firmly planted in his marketing side business. After releasing some successful projects with different artists, he recently signed a publishing deal with Cloud 9 Music.
In 2022, The Plugz Europe will release his compilation album: Building Bridges, an album he hopes will redefine his mindstate in the public's imagination. "I want to fucking break that taboo all the way," he says. "My first entrance into the music industry was in 1999. I want to show everybody that its possible to reach your goals independent.
Speaking over the phone from Dubai, The Plugz Europe is warm and positive excited about his upcoming projects.
FGN – Hey Pablo! Thanks for joining us for this interview today! Do you mind giving a short introduction about yourself?
The Plugz Europe – Yeah, no problem. I'm Pablo and my company name is The Plugz Europe. I've been doing music, for about 22 years and I'm working on a compilation album right now.
FGN – As you just mentioned in the introduction, you have a new album coming out 2022! How long have you been working on it?
The Plugz Europe – For a long time and I probably started it when I didn't know that it was going to become an album. During the lockdown in Holland. I really had nothing to do, so I tried to do some new stuff and I had a studio session with Trobi. I told myself I'm going to work on a album from now. I also worked on some demos with different French and USA artists when lockdown was finished in Dubai and Paris and so it started to become an album.
NFGN – Any special collaborations on your album?
The Plugz Europe – Yeah, I did a lot of songs with Trobi and they are super nice. He's one of the most talented beatmakers I know and he was also in the studio during the lockdown. I was in my house and I was sending him some vocals that different artists where sending to me and he started to make some concepts and I was like, wow, that sh*t is great! He brought the music to another level, so we ended up producing a lot of songs for my album together.
And I have many other names on my project, artists from France, Uk, Netherlands, USA, Morocco, Algeria etc.
FGN – What's the emotion you try to share with the people that hear your music?
The Plugz Europe – I'm not trying to choose something and share it. I'm more searching for stuff that inspires my emotions. I try to share what I can find in the music. So when I'm hearing a piano or whatever, and it makes me feel a certain way I'll use that part of what I'm doing because I know that's going to share the best emotion.
FGN – Have you already thought about what you want to do once the album is out?
The Plugz Europe – As it's finished, I will keep developing projects for my artists and I will keep seeking for new talents because that will be always my main focus. Connecting different genres and cultures worldwide.
FGN – Do you feel like the Covid situation has changed you in some ways?
The Plugz Europe – I'm totally transformed. I'm onto some new place and trying to figure out everything again from scratch. I did think about changing my company name to go along with this feeling of everything being destroyed and born again. But I didn't entertain that possibility for very long, because it doesn't actually matter what the name is. It's also so meaningless and dumb. The amount of conversational space this insignificant detail can take up is just not worth it. It doesn't matter what the company name is, you know? Your actions matters.
FGN – Tell me more about that.
The Plugz Europe – I don't have a mainstream machine behind me. It's up to social media, it's up to algorithms, it's up to numbers, branding, marketing and a deeper state of mind . I have to be able to understand the trends to even know where to maneuver to get to my own fan base. I have to know how to maneuver to be able to live and eat as an independent artist and company in the industry, because financially that's the only way we survive. So if we create major moves for our self, we will eat good. But if we keep being lazy, we will complain about being hungry. So its up to you… I chose for the bigger picture. This pandemic learned me to be creative in different ways.
FGN – What's your next move when the world is going to open up again?
The Plugz Europe – I want to travel as much as I can, that was a little bit like a dream from when I was younger. I want to discover a new places in South America and getting new inspiration. Also, I went to Cuba in last year and I loved it so much, so I want to go there again. I want to go to Asia also. And of course, still do the same things that I was doing in Europe, building bridges… Because music is universal language.
Besides that I started with my brother Yacine Arroumia (a A&R from The Plugz Europe) a new department; The Plugz MENA (Middle East & North Africa) so we are preparing a lot of projects. And also with our team member from France Gattuso, we are working on many French projects.
FGN – Thank you very much for the interview and good luck with your new album "Echoes"!
The Plugz Europe – Thanks!
His mission is to bring different genres and cultures together in order to create exceptionally great music.
In 2021 Pablo started with his brother Yacine Arroumia, (a A&R of The Plugz Europe) The Plugz MENA (Middle East/North Africa) department.
Since then they also started to develop projects with several artists as: Kouz1 (MA), Mocci (MA), Liamsi (MA), Hustle (DZ), and they started to collaborate with the Moroccan label SSC from Tanger to build a bridge for their artists to Europe and the Middle East.
In November 2021 The Plugz went gold with the French compilation album 'El Classico'. They produced 2 tracks featured by Jul, Algerino, Franglish, 100 Blaze, AM La Scampia, Keblack and Jokair.
And the second track with Belek, Black M, Kofs, Youssoupha.
The Plugz Europe is working at the moment on several projects and there is a lot coming out in 2022.
You can find The Plugz Europe on social media: