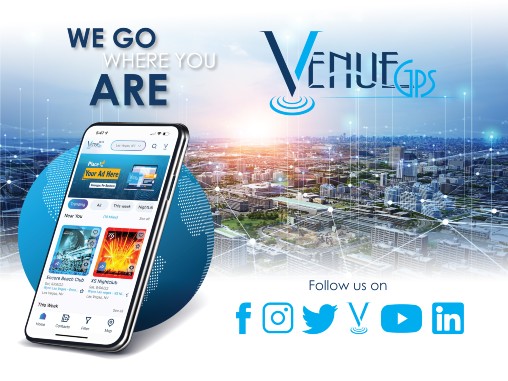 Summer 2022 is finally ending but VenueGPS.com is just beginning to launch their highly anticipated app, which guarantees a simplified and revolutionized new way the entire world will travel, by personalizing all entertainment experiences from fantasy to real-time fun!  VenueGPS will encourage those who have previously had reluctance in making travel plans because of the lack of information and resources to now travel to any destination without the stress.
How VenueGPS Works for General Users:
Let's start by creating a FREE ACCOUNT to build the ultimate personalized experience by selecting your favorite music genres, food cuisines, amenities, and those must-see entertainers so the application will auto-promote your preferences for you. Once your profile is completed, simply turn on and control the notification feature for each followed business profiles. You will also have access to the directory of verified over 100,000 businesses of nightlife, venues, artists, entertainers, annual and community events to ensure you will always be in the know of everything you enjoy not just in your hometown but any city in the US! Finally, you don't have to say, "I wish I would have known" …Now you will have event details of the date, time, directions, ticket cost, as well as live RSVPs on how many people are at the location, health restrictions and so much more.
How VenueGPS Works for Business Accounts:
Only VenueGPS allows its business profile owners to put the power back into their own hands. Every business account will have their own commercialized page allowing the options and controls to be regulated by staging recurrent flyers to auto-post, which can be hours or months out to upcoming events of special guest to after parties. The business profile owners will have options to update amenities, list all social media, parking information, business hours to third party applications of ticket sales, food delivery, food menus or table reservations. This will give your current and future customers up-to-date detailed information on your business and provide the consumer a piece of mind. The comfort of knowing they have all the information needed from a reputable validated source is an essential feature when using VenueGPS.
How VenueGPS Works for Entertainers:
VenueGPS enables validated entertainers, artists, and emerging personalities to create a FREE account allowing your fanbase to know when and where you will be performing or appearing within the VenueGPS categories of Nightlife, Entertainment National, Festivals, Sports, or Media. As an entertainer you have the power to update all your music media applications, share your tour or event calendar, list all your social media links with your current and existing fanbase, as well as give you the ability to enter a market where you would like to boost your visibility.
Founder and CEO Conn Morey has created a one stop shop for Entertainers, Business Owners, and people like YOU to simply plan life's pleasures while on the go. VenueGPS focuses on creating a seamless travel experience whether you are traveling for pleasure or business. We create the solutions that not only help owners bridge their smart devices for travel with minimal difficulty, but we ensure that before, during or after the travel expectations are met based on customized interest.
In the event you are DJ, Entertainer, Business Owner, Concert or Festival Promoter, Comedian, Media Professional and beyond and have not been contacted please reach out to [email protected] or for immediate needs contact the CEO directly at instagram.com/VenueGPS
VenueGPS App Tutorial: https://www.youtube.com/watch?v=mvNdYjKGRJ0